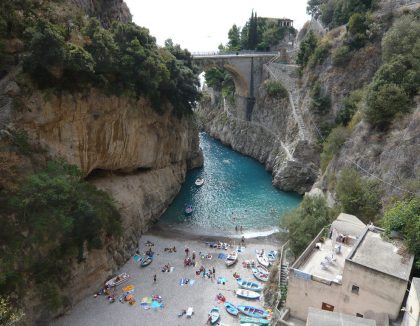 Driving along a spectacular and hilly road, like a lovely green ribbon (the State street Agerola - Amalfi) you reach Furore, whose name derives from the violence of the sea in its Fjord.
Furore is considered one of the most beautiful villages (hamlets) of Italy. It is part of the "Italian Painted Towns": in the upper part of town the outside wall of 85 houses were decorated with colorful murals, landscapes with typical characters of the Amalfi Coast.
Thank to its evated location, Furore is like a beutiful terrace overlooking the Coast. It is a small preciouspearl of the beautiful Coast of Amalfi and it is considered world heritage site of UNESCO.
It occupies a place of honour among the most beautiful villages of Italy and in 2007 it received the EDEN PRIZE (acronym for European Destinations of Excellence), that is an European project born in 2007 and promotes the development of tourism in Europe, giving it important status as a historical, natural and artistic preservation location
About 60 years ago, a film crew arrived on the AC and chose Furore Fjord as a movie set. In the crew there was a famous couple, Roberto Rossellini and Anna Magnani, and in this exquisaite setting the movie "L'amore" was made .
While this movie was being made, Anna Magnani felt deeply in love with this town and bought a house there, to continue her dream that t all the world was as beautiful as that town.
It is famous for its Fjord, a mirror of water placed at the end of a deep valley where the cliffs suddenly drop precipitously into the seawhere on the first Sunday of July, you can attend the exciting World High Diving Championship.
Besides the natural beauties, in Furore you can also admire the muscular athletes who train and dive.
Each and every visitor to this enchanted plae share the same experience - tha they htave been blessed to truly visit something out of a fairy tale.. When they leave Furore, they have but one wish: to return again. But before trhey have that chance, they will surely be envied for having had their magical visitto this rare and unique town.
---
Picures from Furore