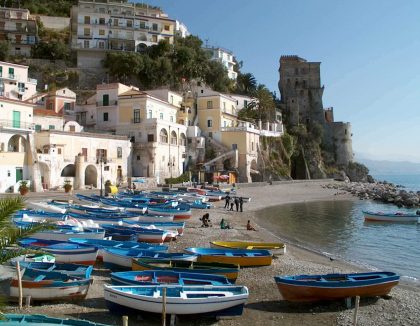 At the bottom or mount Falerio, among the most verdant and ancient vineyards and orange groves of the amalfi coast, Cetera shines, a picturesque fishermen's village that, although a bit wild, enchants the eyes and hearts of all who visit.
Thanks to its position and geographic features, today it is part of the UNESCO and is set as a precious stone on that enchanting jewel that is the Amalfi Coast.
Its name derives from "cetari" or "tonnari" with reference to the inhabitants of the town who are fishermen and during festival (especially during Tuna fish festival) they offer to the tourists typical local products in base of fish
During the summer Cetera is magical, and you will feel the soft breezes from the mountains and the sea mix together their intoxicating brew of immortal beauty. You will be enchanted by the beauty and awe of the evening fireworks, because here, they are an art form to be seen as painting the night skies.
Legend tells us that the mermaids - or sirens - also adored this place, and would occasionally swim away from capri to bathe and renew themselves in the tranquil and crystal-clear waters of cetera and were simply fascinated by this perfect place.
Either alone or with companions, a visit to this village which opens itself like a jewel-encrusted fan over the blue sea below.
In 842a.d., Cetera was invaded by the Sarazens who left behind their defense tower overlooking the sea fortified by the Aragonens during their domination.
Not only was this tower used for the defense of the town from possible attack by invaders from the sea, but it also protected the commercial activity from local pirates who used to hide in the inlets up and down the coast.
Tuna fish and anchovies have the leading role in the kitchen of Cetara whose typical dish is represented by spaghetti with "colatura" of anchovies
"Colatura" is the liquid that pours slowly through staves of vats, where anchovies are left to ripen with salt

Spaghetti con colatura di alici
Ingredienti per 4 persone: ingredients for 4 persons
400 g di spaghetti 400gr spaghetti
2 cucchiai di colatura di alici 2 spoons anchovies colatura
1 spicchio di aglio tritato 1 minced clove of garlic
olio extravergine di oliva extra virgin oil of olive
prezzemolo e peperoncino q.b. parsley and chilly pepper as required
Put oil of olive, parsley, minced garlic, anchvies colatura and chilly peppers in a soup tureen. Let spaghetti cook and add them to all the ingredients in the tureen with a glass of the water where spaghetti are cooked.
Serve with some fresh parsley.
---
Picures from Cetara